Yesterday my grandmother was invited to a traditional pig butchering feast (disznóvágás) by her friends. Disznóvágás are quite a popular topic among fans of the Hungarian culture, so I decided to elaborate on what I think about it as a Hungarian and I try to show you what happens behind the scenes.
First I would like to start with my breakfast from today: Blood stew (vérpörkölt) / Scrambled Blood / Blood with onions.
My grandmother was so considerate and she brought me vérpörkölt, because she knows that I love it so much. A lot of time has passed since I last ate vérpörkölt. It is as the name suggests, a stew made from the blood of the pork. Usually that is the breakfast on a pig butchering feast.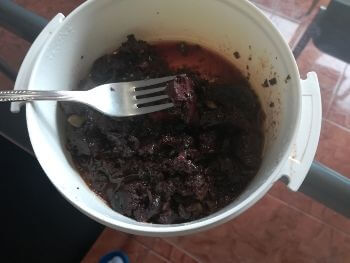 Warning: If you can't stand blood and pictures of dead animals, then maybe this article is not right for you.
When the pork's throat is slit one of the participants holds a bucket under its neck and the oozing blood pours into the bucket (catching the blood).
Then someone takes the bucket to the kitchen and one of the women prepares a delicious vérpörkölt. In my family usually my grandmother makes it, she is quite adept at it. It is even better when it is fresh, today I ate it one day after, but it was still good. I was really grateful for her.
My grandmother told me how to make it:
1. The blood on the air clots together into a big chunk really soon and it also contains watery blood, so she squeezes it out in a colander and makes smaller chunks.
2. She sautés round onion slices in a pot. In hungarian we call the verb "dinsztelni", but the options what my dictionaries provided are different methods. I've found the "sauté" method on youtube which is pretty close to it. Just a bit more oil or lard and don't wait until the onions become brown. You can do the 3rd point when the onions lose their rigidity and become soft.
3. Add piros paprika and mix it together.
4. Chop the blood into chunks and put them into the pot. After it slowly but continuously stir it.
5. When the stew starts to solidify and shrink a bit add some salt and mix it together.
But let's hear it from her! I recorded her when she explained to me how to make it. It is never too late to improve your Hungarian listening comprehension skills…
So let's discuss "disznóvágás" (pig butchering feast/event/day or literally "pig cutting").
It is a Hungarian tradition, but it also serves practical purposes. In short the family and/or friends get together in winter time for a day to butcher a pig and process its meat. But it is much more than that. It is an event where everybody works together, everybody has their role, we eat, drink and laugh together. It gives us something to wait for in the dark winter days.
I think in bygone days this wasn't unusual or extraordinary, just a work which needed to be done. That's how our ancestors have access to food. Back in those days people were responsible for their food, there weren't any groceries.
Nowadays disznóvágás is a scarcity among city-dwellers. We know about it, sometimes once a year some of us take part in such an event, but it is not that common. And it became more like a way to keep the tradition alive and have some fun and spend time together with our family and friends.
On the other hand in the countryside people still do Hungarian pig butchering feasts, and not just once a year, but usually just in winter time. We hold these events only in winter, because pork meat easily gets wormy on the sun or by heat exposure.
I always thought that it is not a coincidence that muslims not eat pork. Whenever I ask my muslim friends about pork they say that it is a disgusting, filthy animal. I understand that they consider it filthy, but I think there is a more profound motive why it was written into the Koran. My assumtion that the original reason is that in warm countries there is a high risk that the raw pork meat goes wrong and they wanted to make it sure that nobody dies or got sick because of that. If it is a law people will break it, but if the Koran said it, then it is sacred.
But in Hungary and in a lot of middle and Eastern-European countries it has its traditions and it is a viable food source. I think most of Hungarians' meat sources come from chicken and pork. We eat beef, but not so frequently, due to its higher price and Hungarians are really price sensitive. Even though we are famous about Gulyás or goulash and it is originally from beef, most of the time we make it from pork. I would say 75-80% of the Gulyás soups which I've eaten in my entire life were from swine and the remaining from beef.
When I was a teenager I participated 3 times in a disznóvágás. My grandparents lived in the countryside and they usually did it once a year. My parents loved the idea of taking part in such a fun event and to have our own made food in the freezer. My grandfather arranged everything, because he had a friend in his village who kept pigs.
So everything was settled. We stayed with my grandparents the night before. Every disznóvágás starts really early in the morning, we woke up at 5 o'clock. We drove to the pig owner's house. Before the slit people usually drink a shot of pálinka, but my grandfather's rule was:
I think he was concerned about the safety of others. These animals usually weigh 150-250kg (330-550lbs), so everybody needs a clear head. There were 5 of us. Grandpa, the owner (his friend), my father, grandpa's neighbour and I.
In general the owner either has a rod or rope with a loop at the end of it. He pulled out the pig with the rod fixed to its muzzle. That's the worst part, because from that part the pig squeals until the it meets its doom.
When the pig is dragged out somebody stun it. There are different methods: sometimes it is with a hit of an axe's flat side on the nape, sometimes it is with an electric shocking device. My grandpa did it with a syringe like stapler to the skull. After that comes the slit (a szúrás). The adults lay and put all of their weight on the pig, because it was writhing and kicking. Before the slit I cowardly refused to hold the rear legs and instead I held the bucket under the slit to catch the blood. Now you see where the blood came from. After the blood oozing subsided we finally arrived at the part of drinking. We clinked with a shot of pálinka and drank for the health of the pig.
We rolled the pig onto a "stretcher" and four of us carried it to a horse-drawn carriage. It is old-fashioned, nowadays people use pickups. We paid for the pig (the price depends on the weight) and transported it to my grandpa's house.
Then the cleaning can begin. In bygone days people first poured hot water on the skin of the pig and they scraped the hair off the skin with knives and scrapes. Then they covered it with dry hay and lit it. After it burnt down they washed it off with water and brushes to get rid of the resulting soot. Don't forget that somebody always needed to feed the fire under the cauldron from the beginning.
Nowadays we use gas cylinders and singe the pig with a gas blow torch. It was quite funny and dangerous how I and my friend – the next 2 years I invited him too – were scraping the pig with a hoe and knives while my grandpa was singeing it carelessly and absent-mindedly (he was speaking to others simultaneously). Then we washed and scrubbed off the soot with brushes. It was quite a challenge to endure the coldness of my hands. It was still before dawn, it was winter time and we needed to plunge the brushes into ice cold water.
In every disznóvágás there is someone who is adept at the process, cutting up the carcass and processing the meat. Sometimes it is a real pigsticker, but in most cases it is someone older from the family or community. In our case it was my grandfather.
I would also mention that meanwhile the women were also working in the kitchen, peeling onions and garlic, preparing mulled wine, serving the men pálinka and mulled wine, making breakfast from the blood and later the lunch "pecsenye tál". I will elaborate on lunch and dinner later.
We hoist the carcass onto a table and grandpa made a vertical section at the stomach from its rear end until the ribs.
First he pulled out the intestines which were given to the dog. It is full of stool, although the casing would be handy for the sausage, but nowadays we buy sausage casing beforehand in a store.
Then come the organs which are valuable. Actually everything is valuable. We throw away nothing (except the stool), everything will be processed or used.
After the offal has been pulled out grandpa chopped the carcass into big pieces.
From now on the workstation has moved in and every part of the carcass has been carried into the house.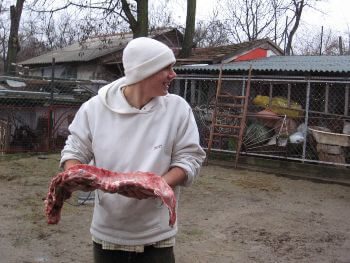 The physically demanding part of the job had finished, so the women joined us to process the food.
The remaining tasks of a Hungarian Pig butchering Feast:
-Cut some of the meat into cubes (for stew) or to smaller parts
–Cut up the "bacon" (skin with fat) to make it ready for "szalonna". Here is my article about szalonna.
–Cook the organs (e.g.:liver, lung, heart, etc), skin and the meat of the head in a big cauldron and feed its fire.
–Cook rice for hurka
–Grind the meat for sausages (kolbász)
–Grind the organs and fried blood for "hurka".
–Mix the minced meat with piros paprika, ground garlics, salt and black pepper. Then fill the sausage mixture into casings.
–Mix the minced organs, minced fried blood, onions, with rice and flavourings such as salt, black pepper, piros paprika, marjoram. Then fill the hurka into casings.
–Pack everything in its place: some things go to the freezer, some will be smoked, some will get salted.
–Clean and wash everything.
Now something to drool over:
Sausage – Kolbász
After the sausages are filled there are 2 ways to conserve and prepare them.
1. Leave it raw, put it into the freezer and later bake/roast it. (sült kolbász – roasted sausage)
2. Hang it, dry it for a day then smoke it. After that it can and should be eaten without any cooking. (füstölt kolbász – smoked sausage)
Hurka – Sausage from organs (and blood)
I know it sounds disgusting, but if you put aside your reluctance and give it a try, you will realise that it is genius and tasty.
There are 2 types:
–Májas hurka – Livery hurka: minced organs, cooked rice, salt, pepper, piros paprika, majoram, sautéd onions.
–Véres hurka – Bloody hurka (similar to black pudding in the UK): It is the same as májas, but with minced fried blood. That is my personal favourite.
We freeze them and when you want to eat it you need to roast it.
There are 2 ways to make it:
1. Roast it but just until it is soft. I can eat it but it is not that tasty and for people who are not used to hurka can feel disgusted.
2. Roast it until the casing gets crispy. That's the way I like it and how you should it eat if you are picky.
Szalonna – Bacon:
We have scores of types of bacon. They are either salted, smoked or cooked. If I know well in the US people eat only 1 type of bacon and only fried. We eat them with and without frying.
I already discussed szalonna in one of my former articles here.
We Hungarians love it and eat them a lot.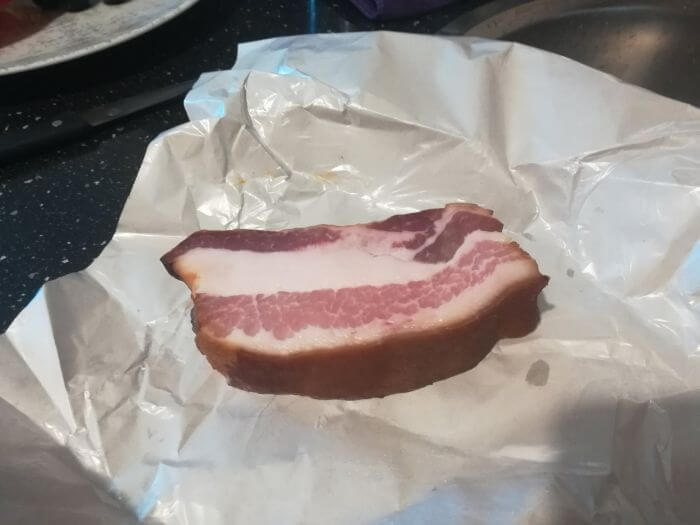 Töpörtyű – Greaves
Usually made in the upcoming days after the disznóvágás. When we roast the raw fat cubicles it oozes out liquid fat (lard) and the cubicles shrank to crispy, shrunk cubicles. They are delicious. Get a plate, hint a pile of salt in the middle, roll the töpörtyű in it and eat bread and sliced tomatoes and pepper with that. In markets these are available in several flavours such as piros paprikás, fokhagymás (garlic).
Kocsonya:
It is a salty jelly from skin, bone and cartilage. We cook the skinny parts of the pig such as ears. The skin, cartilage and bones contain a lot of collagen. The collagen cooks out from these parts and it becomes very thick. But at room temperature it is still liquid. We put the soup in soup bowls and leave them outside in the cold. Usually there is something in the middle e.g.: pig ear or pig claws, but the Millenials like me got pickier. I love kocsonya (the jelly part), but I don't eat the ears. So my grandma puts loin chops instead.
And the Pálinka:
It is a typical Hungarian fruit spirit. Foreigners like to call it schnapps or brandy. It can be made from any fruit and it is really strong 40-50%. Real pálinka is not a ladies drink, I mean it is not fruity, but rather scrapy (it scrapes your throat) and lights and warms up your throat and chest.
And what were our lunch and dinner? Now that you are familiar with these foods I can tell you.
The following meals were all made from the pig which was killed that day.
At the day of the Hungarian Pig Butchering Feast for lunch the women baked and served the followings in a big oven loin chops, ribs, tenderloin, shoulder clod, slices of the knuckle of ham, pig brain and sauerkraut. These are called "pecsenye hús".
Unfortunatelly I neither have a picture about it nor found it on the internet.
Update: I convinced my grandma to prepare a meal like that, so I could upload pictures. It doesn't contain pig brain and loin chops and the baking tray is smaller.
For dinner we ate meat soup, hurka, kolbász and stuffed cabbage.
And some words to expand your vocabulary:
a szúrás – the slit (The event where the pigs throat being slit)
böllér – pig sticker
disznó, malac – pig
sertés – pork/swine
disznóvágás vagy disznótor – Pig butchering feast. The day which was described throughout this article.
disznótoros – a dish with májas and véres hurka, baked sausage.
férges hús – wormy meat
hús leves – meat soup
(füstölt/sült) kolbász – (smoked/baked) sausage
(májas) hurka – hurka is like a sausages, but it made of minced organs and rice, and contains no meat.
véres hurka – It is like májas hurka, but it also has minced fried blood.
pálinka – Hungarikum. It is our national "shot". It is usually 40-50%
töltött káposzta – stuffed cabbage. It cabbage leaves stuffed with cooked meat and rice. These balls are lying on cabbage also and covered with sour cream.
vérpörkölt or hagymás vér – blood stew/ blood with onions/ scrambled blood